With the Summer heat finally waning I have been able to spend more time in the kitchen restocking my "stash". Below is a recipe for a fast and simple granola you can make on the stove-top! Yes I am marveled that it took me over 20 years to discover you can make granola without the long wait of the dehydrator or spending hours monitoring the oven and stirring with religious devotion. This is not a clumping granola but a loose flake style, tastes great all the same and will serve the same function in yogurt, parfaits, cereal, and snacking.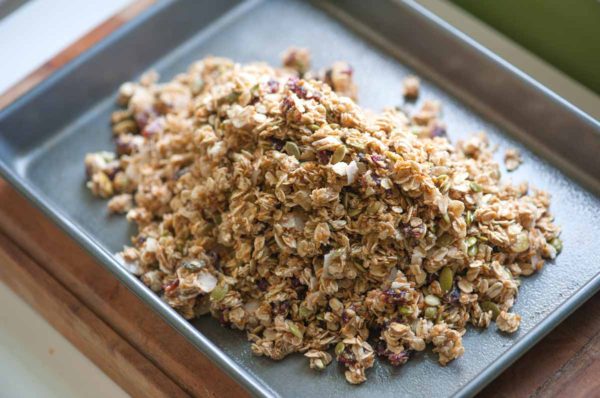 | | |
| --- | --- |
| | |
Combine Oats, Flax, and optional Nuts/Seeds and set aside. Prepare a piece of parchment paper or a non-stick pan for cooling the Granola once cooked.

In a medium skillet combine Coconut Oil, Maple Syrup, Brown Sugar, Vanilla, Cinnamon, Cloves, and Nutmeg. Stir to combine BEFORE heating.

Over medium heat begin to cook the spiced syrup. Stir regularly until the sugar is dissolved and the mixture begins to boil.

Once the spiced syrup has boiled add the Oat Blend and stir rapidly to evenly coat all the flakes.

Stir constantly for 5 to 7 minutes until all flakes are toasted and no longer sticky. To test remove a few flakes to the prepared parchment/pan to cool briefly. They should be crisp with no tacky residue.

Once crisp remove from skillet onto parchment/pan to cool for 10 minutes before packaging.
If you find yourself lacking Brown Sugar you have several options.
Combine 1 Cup White Sugar with 1 Tablespoon Molasses. For Light Brown Sugar use Baking Molasses, for Dark Brown Sugar use Blackstrap Molasses.
For a less refined sugar option you may also use Coconut Sugar, Turbinado, Sucanat, Jaggery, or dry Maple Sugar.
Do not use date sugar as it is not a soluble sweetener and will impair the syrups ability to candy when heated.
Optional ingredient substitutions.
If you would like a more textured granola you may add Nuts/Seeds by substituting a portion of the Oats up to 1/2 Cup. For example if you would like to add 1/4 Cup of Sliced Almonds and 1/4 Cup of Shredded Coconut your recipe will use 1 1/2 Cup Oats instead of 2 Cups.
If you wish to add Chocolate or Dried fruit you may do so after Granola is cooked and cooled before packaging. If you are adding a substantial amount you may wish to double the spices in the original recipe.