Despite my gastric woes I still enjoy interacting with food. I make no claims of being formally trained or a "chef". My kitchen experience began in everyday places. Picking apricots from my Aunties tree to help her make jam, or chopping nuts for Christmas time butter toffee with my Grandmother. My tastes are rather "exotic" by compare to my family so as I grew so did my skills in hunting down and preparing recipes more to my palette. I am not terribly intimidated by experimentation, a good trait considering my adult onset allergies and complex dietary needs.
Even as I am getting through generally the worst gastric period of the year (Summer) I stay busy in the kitchen as much as my body allows. If I'm not in the kitchen I am probably on Pinterest or any number of my favorite blogs and websites.Though Summer is usually the worst season for my GI symptoms due to fluctuating temperature and humidity affecting my Disautonomia I still have to eat. Along with bone broth and zucchini, sweet potatoes are probably my most well tolerated food. Today I will share a simple mild recipe for Sweet Potato & Turkey Soup using a pressure cooker. Some of the ingredients may be hard to come by so I will try to provide substitutions to the best of my ability.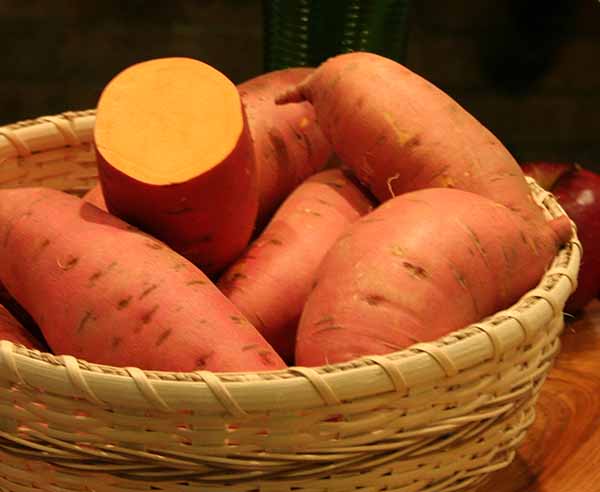 | | |
| --- | --- |
| | |
Combine the first three ingredients (Turkey Necks, Tails, and Water) in 6 quart or larger Instant Pot. Switch lid to sealing position, select high pressure, select manual setting, and set cook time to 45 minutes. Once cook time is complete allow to naturally release for 10 minutes before performing a quick release. Remove meat and bones to a platter (test internal temperature!) to cool reserve the remaining liquid leaving it in the pot.

While the meat cools place the diced Onion, whole Garlic, whole Sweet Potatoes, Sage, and Salt in the Instant Pot (Yes the order is important you want the onion closest to the heat source to aid in caramelization as the pot comes to pressure). If your Sweet Potatoes are large cut to a suitable size to fit all the contents of the recipe. Switch lid to sealing position, select high pressure, select manual setting, and set cook time to 16 to 20 minutes depending on the size of your Sweet Potatoes (longer for high altitude). Once cook time is complete allow to naturally release for 10 minutes before performing a quick release.

While the vegetables are cooking use this time to debone and shred the Turkey Meat into bite size pieces, set aside. Turkey tails are rather fatty simply break up any gelatinous material with your fingers OR set aside for Step 4.

Stir the contents of the pot to incorporate vegetables and break up larger Sweet Potato pieces. Using an immersion blender pulse contents of pot until well combined. At this point you can add the reserved gelatinous material and continue to blend until entirely smooth. Alternatively you can transfer all vegetable solids to a blender or food processor.

Reintroduce the shredded Turkey Meat as well as adding the Maple Syrup and Black Pepper to taste, stir to combine. At this point if your total volume in pot is below the maximum fill or 6 quart line add Broth or Water until desired texture or volume mark is reached.

If you intend to eat immediately select Sautee function and cook, stirring regularly until heated through. Enjoy!
My cook times may seem excessive but my goal with this recipe is a tender easily digestible meal. If you wish to shorten the cook time be especially cautious that your meat reaches a safe internal temperature. 165F for Poultry, 160F for ground Beef, and 145F for chunk/whole Pork and Beef.
If shortening the Vegetable cook time you may wish to peel the Sweet Potatoes to avoid tough skin flecks in your soup.
*Some alternatives to the smoked Turkey Meat include.
For vegetarian/vegan skip Step 1, proceed to Step 2 using 1.5 Cups Water and one of the options to follow. Liquid Smoke: Begin with 1/2 teaspoon, adjust to taste after blending the soup base. Each brand has varying potency. Flavored TVP (Textured Vegetable Protein)/Tempeh/Seitan: Adjust cook time to your products needs. The intent is to create a broth from the plain water to infuse the vegetables as they cook.
Alternative meats could include Ham Steak, Ham Hock, Pork Belly, Pastrami Slab, Smoked Chicken, even Rotisserie or BBQ Chicken/Meat. If your meat is fully cooked you can replace Step 1 with simmering the meat and water using the Sautee setting for approximately 15 minutes. If using an alternative cut of uncooked meat refer to your user manual for suggested cook time.
In total you want approximately 3 Cups Cooked Meat or Vegetable Protein. If using Liquid Smoke adding two 14oz cans of rinsed beans such as Navy, Cannellini, or Great Northern are good choices to add some textural interest, add after blending.